Thursday, April 26, 2012 by Keith
New York-based researcher Matt Richardson created a point-and-shoot camera that turns your captured imagery into words. 
Called the 'Descriptive Camera', the camera works a lot like a regular camera: users point at subjects, and press the shutter button to capture the screen. 
The distinct difference is that it outputs a text description, using a thermal printer, of the scene it 'photographed'—resulting in "text in the style of a Polaroid print". 
"As we amass an incredible amount of photos, it becomes increasingly difficult to manage our collections," Richardson wrote on his website. 
"Imagine if descriptive metadata about each photo could be appended to the image on the fly—information about who is in each photo, what they're doing, and their environment could become incredibly useful in being able to search, filter, and cross-reference our photo collections," he continued. 
"Of course, we don't yet have the technology that makes this a practical proposition, but the Descriptive Camera explores these possibilities." 
Richardson's camera is powered by Amazon's Mechanical Turk crowd-sourcing API—when the picture is taken, it's sent to workers on the internet, who describes the photo briefly, and sends back text. The process takes 3 to 6 minutes. 
For faster results, users may also set the camera to be put into "accomplice mode"—where it will send an instant message to any other person, that would contain a link to the picture and a form, which they can input the description of the image. 
"I would love to make another version that's battery-operated and uses wireless data. Ideally, The Descriptive Camera would look and feel like a typical digital camera," Richardson added. 
Descriptive cameras: the camera of the future?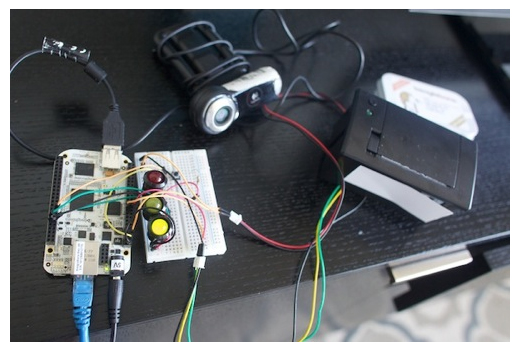 No Comments »
Leave a comment
You are viewing the earliest post.