Wednesday, April 25, 2012 by Keith
Google has launched Google Drive, an online file storage service that allows users 5GB of storage for free. 
Google Drive can be installed as folders on PC and Mac computers, as an app on Android devices, and as an app for iOS devices soon. 
"[It's] a place where you can create, share, collaborate, and keep all of your stuff. Whether you're working with a friend on a joint research project, planning a wedding with your fiancé or tracking a budget with roommates, you can do it in Drive. You can upload and access all of your files, including videos, photos, Google Docs, PDFs and beyond," Google wrote on its blog. 
Users can comment and reply comments on the things they share, and receive notifications the items they share get commented on. 
Google Drive also allows users to search for files by: keywords, file types, owners, and such. 
According to Google, Drive also has image recognition. 
"…if you drag and drop photos from your Grand Canyon trip into Drive, you can later search for [Grand Canyon] and photos of its gorges should pop up," the blog writes. 
For more than the 5GB of storage, users can upgrade easily by paying US$2.49/month for 25GB, US$4.99/month for 100GB, or US$49.99/month for 1TB. Upgrading also increases users' Gmail account storage to 25GB.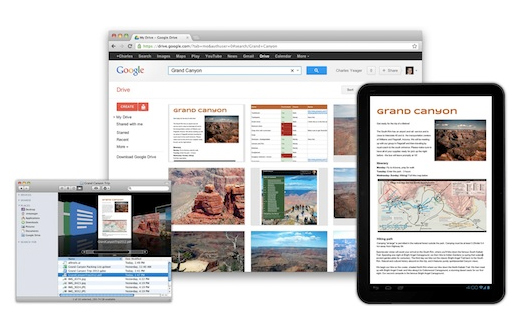 No Comments »
Leave a comment
You are viewing the earliest post.