Tuesday, July 12, 2011 by Keith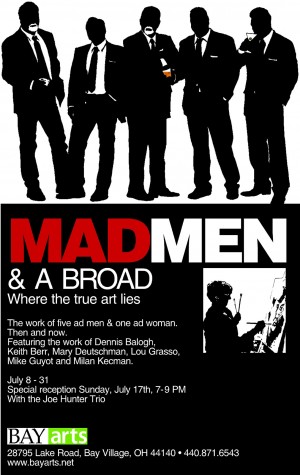 Where True Art Lies
Our good friend and artist Mike Guyot cooked this up and I have to say it's a fabulous idea and an amazing show. This is a fun event of 5 Ad Men and 1 Ad Woman, Then and Now.
We were all Ad People and have moved in the direction of fine art, see our work then and now, Featuring Keith Berr, Dennis Balogh, Mary Deutschmen, Lou Grasso, Milan Kecman and Mike Guyot.
July 8 - 31
Opening night Party Sunday, July 17th, 7-9PM with the Joe Hunter Trio.
Bay Arts is a very cool Gallery with Lake views and I must say the show is amazing. Come on by and enjoy a few classic beverages with us all. Wear your best AdMen clothes, black suits and pointed bra's not required but there will be a lot present.
Looking forward to a great evening.
No Comments »
Leave a comment
You are viewing the earliest post.