Monday, April 20, 2009 by Keith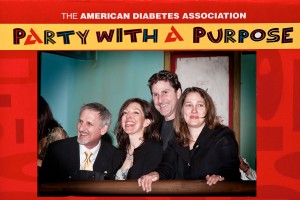 This photo is Linda and me with Ron Copfer and his lady friend Jamie Nash winning the bid on Hector Vega's Rock guitar at the ADA benefit at Cleveland's House of Blues. Photo by Linda's Lenses at 440-570-3983 Linda@LindasLenses.com
The American Diabetes Association Benefit Saturday April 18, 2009 was a Huge success!!!!!
Linda and worked with the American Diabetes Association to promote a fundraising benefit Saturday, April 18, 2009 at Cleveland's House of Blues.
It was a huge success, thanks to everyone that worked so hard to make this a fundraiser with meaning, especially JT Aguila the head of the event. We have been a part of the ADA since Linda's sister, Elaine, needed a kidney transplant due to severe diabetic complications. Linda gave her sister a kidney and saved her life. Linda and I now donate our time to help fight this disease that touches so many people in the world.
The artwork shown on the right, titled "Joined Together in Hope," is a piece that was created by Sam Rajan and myself for the ADA and was auctioned off with other great items in the live auction. Sam actually outbid everyone to have the piece. Sam had a special interest as 4 of his family are in it.
This event does too much good to miss and is a lot of fun. Thanks to all that were able to attend and if you couldn't make it this time there's always next year.
No Comments »
Leave a comment
You are viewing the earliest post.